How to rent a motorhome?
Wikicampers facilitates and secures rentals between individuals. You too can take part in the adventure!
Prospective client searches for the vehicle that meets his needs and sends a request based
on his requirements (rental dates, number of passengers, distance, planned route and vehicle comfort).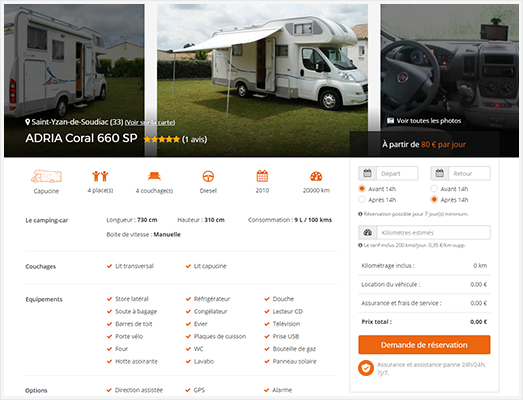 The owner is notified by e-mail or text. He can contact the prospective client and then accepts or refuses the request within 48 hours.
The prospective client confirms his reservation by making the payment within
48 hours.
The owner agrees with the client to the time and place of collection and prepares the vehicle.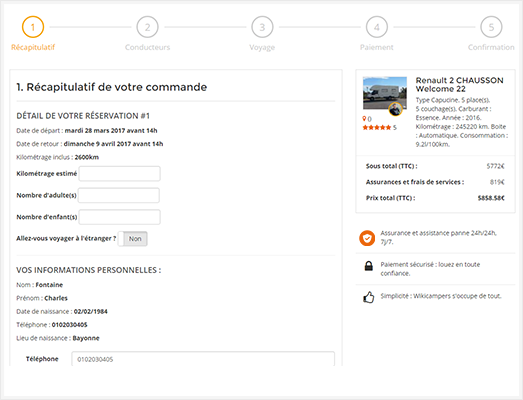 On the first day of the rental, the owner carries out a vehicle inspection with the client, who then signs the contract. The owner takes the time to show the client how to drive the motorhome.
The client returns the vehicle to the owner in the same condition as when they took delivery of the vehicle (full tank of petrol, empty waste water tank). Both parties then fill in the return inspection form and each party reviews their experience of the rental.
Visit our FAQ for more information or call
+44 2034 455603
Price of a local call
Monday to Friday from 9am to 6pm
Frequently asked questions
An ordinary car licence is sufficient to rent a motorhome on Wikicampers as all vehicles have a weight limit of 3.5 tons.
To rent a motorhome on Wikicampers, you need to be 23 years old and have had a full driving licence of more than 3 years.
Yes, getting use to the vehicle is quick and easy but you must always bear in mind the size of the vehicle, i.e. overhang and height (when going through tunnels, for car park height restrictions, tree branches, etc). The size is specified in the advert for the vehicle.
Rent your motorhome and make extra money !
Are you a motorhome owner? Rent your motorhome safely and earn €3,000 per year ! !
Your vehicle is comprehensively insured throughout the rental.