Rental Renault GLENAN CONCEPT CARS Trafic III Horizon van 5 2L DCI 145cv L1H1
Meudon (92)
Campervan
5 seat(s)
4 sleeping place(s)
Non-smoker
The Van Renault Trafic III Horizon van 5 2L DCI 145cv L1H1
Réf. VL23413
Consumption : 9 L / 100 km
---
Besoin de changer d'air, de voir de nouveaux horizons ou bien simplement d'expérimenter une autre façon de voyager en toute autonomie ?
Notre van Renault Trafic Glénan est fait pour vous !
Idéal pour des vacances, un week-end et/ou partager de bons moments en famille ou entre amis, il s'agit d' un Horizon van 5 ( pour 5 places assises ) 2L DCI 145cv aménagé par Glénan Concept cars.

Le van a, actuellement, moins de 30.000 kilomètres au compteur.

Il est composé de 5 places assises et 4 couchages, un coin cuisine avec ses deux feux gaz, son frigo électrique 49L, et un évier.
De nombreux rangements, placards et tiroirs agrémentent l'aménagement de ce véhicule.
Les embases tournantes des sièges avant permettent de manger à 4/5 personnes autour de la table laquelle est facile d'installation et de rangement avec son pied colonne.

Le couchage du bas fait 137x187cms et nous y avons ajouté un sur-matelas Memolux pour plus de confort.
Le lit du toit relevable est un sommier à lattes avec matelas confort de 140x198cms.
La toile de tente est composée de trois ouvertures, une transparente et deux moustiquaires. Il est possible de profiter de l'ouverture panoramique de la toile de tente afin de profiter d' un beau panorama, d'une température agréable ou bien simplement pour regarder les étoiles!

L'ensemble du van est équipé de spot/barres LED d'éclairage ou d'ambiance conférant une ambiance très chaleureuse la nuit tombée.
Les équipements électroniques ( lumières, frigo, pompe à eau, niveau batterie porteur et auxiliaire, températures ) sont pilotables depuis un écran tactile de contrôle présent au-dessus du réfrigérateur.
Une petite tablette d'appoint rétractable est présente sous cet écran de contrôle.

La réserve d'eau propre est de 90 litres, et de 55 litres pour les eaux grises.
Une douchette extérieure, présente à l'arrière du van au niveau du hayon permet de prendre une douche facilement ou simplement de se rincer après une activité.
Le panneau solaire 100w sur le toit offre davantage d'autonomie en électricité en rechargeant par temps ensoleillé la batterie auxiliaire.

Les vitres surteintées à l'arrière confèrent plus d'intimité et de confort.
Il y a également un store extérieur.

Les dimensions du van et sa hauteur ( 2m01 ) permettent un accès aux zones et villes touristiques. La couleur du van est également un atout pour rester relativement discret.

Est compris dans la location du van une table pour manger à l'extérieur ( 107x70x70 ) ainsi que quatre chaises dont deux chaises parapluies avec dossier réglable.
Nous fournissons avec le van les housses de matelas ainsi que les draps-housses, un aspirateur à main qui se branche sur le 12 volts ainsi qu'une grille de barbecue.
Nous ne fournissons pas les draps ni les oreillers.

Le véhicule est équipé en vaisselles (x6), couverts (x6), nécessaire pour cuisiner ( poêles, casseroles, cafetière italienne, dessous de plat, spatule ) et pour nettoyer ( éponge, produit vaisselle, torchons, lingettes).
Nous mettons à votre disposition une petite boite contenant des condiments ( sel, poivre, sucre, café, thé...).

Nous pouvons joindre, en sus du prix de la location du van, un porte vélo pliable et rabattable parfait pour y transporter trois vélos.
Prix / Jour pour le porte-vélo : 10 euros

Si vous avez des questions, n'hésitez pas à nous envoyer un message, nous tacherons d'y répondre aussi vite que possible.

Yoann et Pauline.


Learn more
---
Availability

Please wait...
The rate includes 200 km/day . 0,30 €/km add.
Rate with 100 km/day: - €5 / day .
5% discount starting at 8 days of rental .
10% discount starting at 15 days of rental .
---
About the owner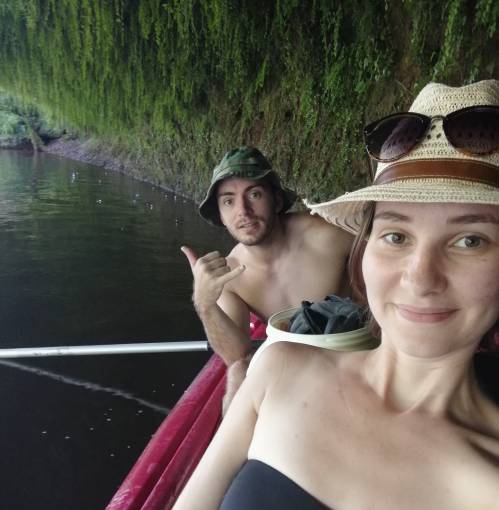 Yoann B.
Verified phone
New Owner
Une location effectuée au minimum
Cyber
More than 50% of property inspections done on the app
Beep Beep
Responds to messages within 12 hours
---
Driver requirements
Be at least 23 years old.
Be in possession of a driver's license for at least 3 years. The license must currently be valid.
Upload scans of your driver's license and proof of ID to your account before the rental period begins.
Notre partenaire Allianz vous assure tout au long de votre voyage (à partir de la date de début de location jusqu'à la date de fin de location), pour les dommages liés à la circulation (franchise applicable).
NEW!
Choose the Comfort or Serenity + options to reduce your deductible.
---
Location