Hello, my name is JEAN-PAUL P. !
Member since 03/06/2018
Reviews received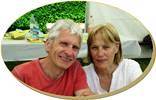 Très bon accueil et excellents rapports avec les propriétaires. Van état neuf, aucun souci. dossier administratif bien géré et clair.
The 18 August 2018 Camping-car très propre et très bien entretenu, idéal pour un séjour en toute liberté. Propriétaires très gentils, accueillants et expliquant bien le fonctionnement lors du départ.
The 13 August 2018 Très bonne première expérience. L'aménagement de ce véhicule est fonctionnel et très bien adapté. Très bon accueil de la part des propriétaires. Expérience à renouveller!
The 24 July 2018
Trust
Ads verified and
members' identity verified
Customer service
+44 2034 455603 (no surcharge) - Live chat.
Email, reply guaranteed within 24 hours.
Monday - Friday 9:00 - 19:00, Saturdays 10:00 - 18:00

Full coverage assurance and support
24 hours a day for your trip in France or the rest of Europe