BUY PRE-OWNED -Jumper L3H3 aménagement personnel
Nantes, Pays de la Loire (44)
3 seats on vehicle registration document
---
Description
Fourgon aménagé Citroen Jumper, 07/2012
L3H3, idéal pour les personnes de plus 1m*****
Km évolutif.
Camera de recul,
Vitres et rétroviseurs électriques
Fermeture centralisée
Suspension pneumatique (pour une meilleur adhésion à la route)
Livré avec adaptateur Bluetooth (musique et appel)

Van aménagé fait pour y vivre à l'année, parfait pour aller dans les endroits à température négative. J'ai passé un hiver dans les hauteurs Suisse avec des température pouvant aller jusqu'a -20°

Très bien entretenu, chez Citroen élément changés depuis aout 2022 , factures à l'appui:
Batterie, moteur essuie glace, durite, suspensions avant, amortisseurs arrière ( Boudin, moteur , commande), durite, disque et plaquette de frein,

Aménagement VASP
Isolation: liege + biofibre +cp+ lambris
Rideau isolant entre l'habitacle et la cabine

Aménagement: 3 fenêtres projetables+ 1 lanterneau + aérateur de toit
Un lit 120x190 (véritable literie) escamotable, dans le sens de la longueur, parfait pour les grands.
Salon avec mousse HR Anti-feu
Table amovible et orientable 360°
Frigo Dometic 80L (avec partie congélateur)
Douche avec pommeau économiseur d'eau
WC sèche avec séparateur d'urine
Evier avec mitigeur 2 positions jets
Plaque de cuisson Theltort
5 placards hauts, une penderie, 3 rangements bas, un espace « sous sol »

Électricité:
prises 220v et 12V (prise 230v, prise allume cigare, prise usb, reparti dans l'habitacle) ,
batterie lithium Bluetooth 150 rechargeable par panneau solaire 365w, alternateur et prise P17, régulateur de charge solaire MPPT victron,
convertisseur charge multi victron,
contrôleur batterie BMV victron,
protecteur batterie victron,
Lumière: 2 spots orientables + 4 spots sur variateur, + 1 liseuse + lampe étanche SDB

Gaz: bouteille GPL 27L pour alimenter la plaque de cuisson et chauffage/chauffe eau

Eau:
Cuve eau saine 84L avec remplissage externe
Cuve eau grise 43L sous châssis avec vidange manuelle
Vase extension Fiamma A20
Pompe Aqua 8 10L (permet d'alimenter électriquement l'eau jusqu'au 2 robinets)
Chauffe eau Gaz+ électricité Truma Combi 4

Chauffage Truma Combi 4 ,Gaz+ électricité, avec 3 vannes de sorties dans l'habitacle permettant une chauffage uniforme

Sécurité:
Alarme :
- 2 télécommandes RFID
- Détecteur de mouvements (cellule infrarouge)
- Capteur de pression d'air infra-sonique
Détecteur magnétique sur chaque fenêtres
Capteur de chocs télé-réglable sur 8 niveaux
Capteur de  consommation de courant éjectable
Sirène radio codée (sans fils) 118 dB
Loquets interne sur les portes

Valeur actuelle de l'aménagement *****€

Livré avec:
Alarme
Extincteur
Détecteur monoxyde de carbone
Bloque volant
4 pneus neige (achat octobre ***** pneus été (Aout ***** Adaptateurs remplissage GPL
Cable recharge CEE P17
Cales 5tonnes Fiamma
Plaques désenlisement
Produit thermique d'entretien tuyauterie
Factures, schéma de construction, mode emploi
Date of last leak test : 01/09/2023
Date of last oil change : 01/11/2022
Date of last vehicle safety inspection : 01/12/2022
Date of last service performed : 01/11/2022
---
Island bed
---
Fridge
Freezer
Sink
Toilet
Shower
Hobs
Toilettes sèches
2 feux
Power steering
Cruise control
Parking assistance
USB socket
Snow tyres
Backup camera
Chauffage au gaz
220 volt socket
Gas cannister
Solar panel
Convertisseur 12V / 230...
Salon à l'arrière
Cuisine centrale
Toilette et douche sépa...
Penderie
---
About the owner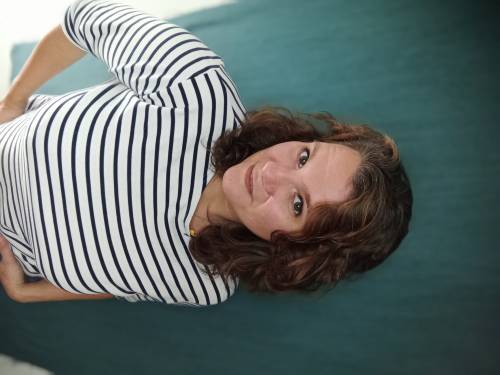 Laurie L.
Verified phone
---
Vehicle history
The complete history of this vehicle is available online.
Thanks to our partner AutoViza, get it here in just one click.
Get the history
---
Vehicle delivery
This vehicle can be delivered to your home in 48 hours.
Fill out this form to learn more:
Fill out the form
---
Secure payment
Wikicampers acts as a trusted third party.
We secure the sale between you and the seller.
Learn more about payments
---
48 100 €
Secure payment
---
Listing posted on 21/09/2023
---
---