Rental VOLKSWAGEN VOLKSWAGEN CALIFORNIA
Lille (59)
Van
4 seat(s)
4 berth(s)
Non-smoker
Family vehicle
Notre California confortline T5 de 2007 en très bon état est aussi confortable sur la route qu'en campement. Vous pouvez goûter au plaisir du camping sauvage, dans des spots incroyables. Parfait et discret pour accès parking souterrain lors des visites en ville ou accès parking hauteur limité (>2M)
Il permet d'y faire dormir 4 personnes grâce au toit rétractable. En dormant en haut, vous pourrez bénéficier d'un sommier à lattes. L'aménagement intérieur prévoit un mode salon avec les 4 sièges face à face, et de nombreux rangements qui permettent de garder l'intérieur toujours organisé. Pour le repas, vous disposez d'un frigo, deux feux, et d'un évier). En cas de température basse, possibilité de mettre le chauffage stationnaire (fonctionnement indépendant).

Équipements pour quatre ( 2 chaises dans le coffre et 1tabouret d'appoint, table extérieure dans la portière, vaisselle, couverts, assiettes, 1 poêle, 1 casserole, 1 planche à découper, ...)
Draps oreiller et couette fournis sur demande.
Produits de 1ère nécessité ( condiments, huile d'olive et vinaigre maison, bière au frais) et d'entretien (liquide vaisselle, éponge, torchon, balayette, fil à linge, pinces, etc.). Nous laissons également à disposition une lumière extérieure, une lampe frontale, un chargeur allume cigare, 2 cales de roues, et un extincteur.
Possibilité d'avoir une douche solaire sur demande. Pas de toilettes chimiques.

Vous pouvez récupérer le VAN sur Lille centre (quartier Wazemmes), votre voiture stationnera sur un parking en sous sol.

Merci de me contacter par téléphone avant toute réservation.

Grégoire
Find out more
---
Equipment
Living compartment air conditioning
Afficher les 25 équipements +
---
Availability

Please wait...
The rate includes 200 km/day . 0,25 €/km add.
Tarif avec 100 km/jour : - 5 € / jour .
Réduction de 9% dès 8 jours de location .
Réduction de 12% dès 15 jours de location .
---
Overall rating
5,0 / 5
2 comments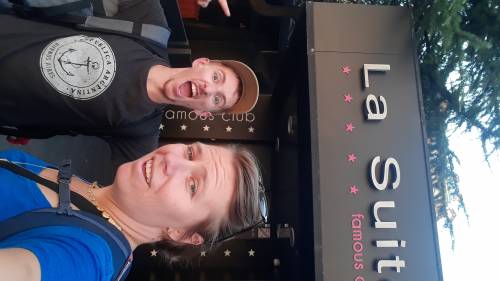 Alice J.
14/09/2022
Super van aménagé avec tout ce qu'il faut : double feu, évier, tuyau de douche, tables intérieur extérieure, chaises... parfait. un cocon ! Notre voyage s'est très bien déroulé, le véhicule est très agréable à conduire également, sur les grandes routes comme les petites. Grégoire nous a bien montré minutieusement comment tout fonctionnait pour que nous ne soyons pas perdus durant notre séjour. Je recommande le van de Grégoire +++. Manque de pot pour le jour de la douche : petit problème technique avec la pompe.
---
Alexandre L.
25/05/2021
Super van pour votre location dans la région Nord. Nous l'avons loué pour 5 jours avec nos 2 enfants de 5 et 3 ans. Le van était très propre et tous les pleins étaient fait. Grégoire a pris bcp de temps pour le briefing et la prise en main. Je recommande les yeux fermés.
---
See all comments
About the owner
Grégoire R.
2 comments
Verified phone
Spoken languages : French
Novice Owner
Une location effectuée au minimum
Pottok
Responds to messages in more than 24 hours
---
Driver conditions
Etre âgé d'au moins 23 ans.
Etre titulaire du permis de conduire de la catégorie B depuis au minimum 3 ans. Le permis doit être en état de validité.
Upload scans of your driver's license and ID to your account before the rental begins.
Notre partenaire Allianz vous assure tout au long de votre voyage (à partir de la date de début de location jusqu'à la date de fin de location), pour les dommages liés à la circulation (franchise applicable).
NEW!
Choose the Comfort or Serenity + options to reduce your deductible.
---
Location