Rental MERCEDES MERCEDES MARCO POLO
Guidel (56)
Van
4 seat(s)
4 berth(s)
Non-smoker
Evadez vous quelques jours ou plus à bord de notre VAN Mercedes Marco Polo 190 ch très confortable et facile à conduire ( Boîte auto, Position haute de conduite, Caméra panoramique, Car Play, Live Traffic Information, Ecran central tactile regroupant toutes les fonctions du Van et se commandant à la voix!...)
Partez en toute liberté et en autonomie ( Frigo, Evier, Feux 2 gaz, Réserve d'eau, 2 lits confortables, Chauffage additionnel, Table et chaises extérieures, Camping Gaz exterieur, Auvent, porte-vélos en option (5€/j). Petite douche extérieure, Batterie supplémentaire... ). Pas de WC chimique.
Le Van se gare partout ( Moins de 2 m de haut, Caméra de recul avec vision panoramique ) et se conduit comme une berline ( Cat 1, Permis B ), la prise en main est rapide.
Il dispose de tout le nécessaire pour en profiter pleinement ( Vaisselle, Poubelle, Matelas, Produits divers ). Dans la mesure du possible, on demande d'amener son couchage ( Draps ou sacs de couchage ) et de nous rendre le van propre ( 30€ de supplément si le ménage n'est pas fait ).
Parking gratuit chez nous pour votre véhicule. Possibilité de vous récupérer à la gare ou à l'aéroport si besoin.
Habitués ou novices de ce style de road trip, vous serez conquis par une autre façon de voyager, vous serez LIBRES.
Présentation vidéo de notre van sur demande et avant la location.
Find out more
---
Equipment
Living compartment air conditioning
Afficher les 20 équipements +
---
Availability

Please wait...
The rate includes 200 km/day . 0,15 €/km add.
Tarif avec 100 km/jour : - 5 € / jour .
Tarif avec kilomètrage illimité : + 20 € / jour .
Réduction de 5% dès 8 jours de location .
Réduction de 12% dès 15 jours de location .
---
Overall rating
5,0 / 5
5 comments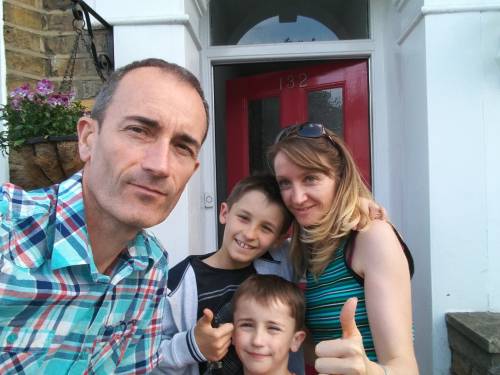 Jean L.
21/06/2021
Super expérience ! Nous avons loué le van pour un week-end à quatre avec nos deux enfants et nous sommes ravis. Le véhicule est magnifique, très confortable, propre et facile à conduire. Tout était parfait. Un grand merci aux propriétaires qui ont pris le temps de tout nous expliquer avant le départ. Très bon contact. Nous recommandons !
---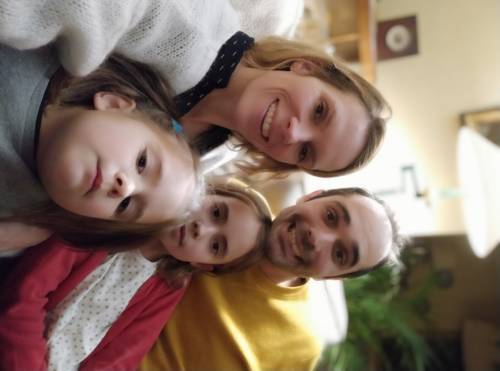 Anne-Laure D.
25/05/2021
Véhicule idéal avec lequel nous avons passé un super week-end avec nos 2 enfants! Véhicule très confortable, pratique, avec une prise en main rapide et propreté irréprochable. Merci aux propriétaires pour leur accueil et leur sympathie. Nous recommandons vivement!
---
Nathan R.
18/03/2021
Une magnifique semaine passée en famille avec notre fils d'un an à bord du Van. Très confortable, pratique et équipé. Un super accueil par les propriétaires avec des conseils complets et adaptés à l'utilisation du véhicule. Un grand merci, nous recommandons totalement. À renouveler rapidement !
---
Mathias B.
05/03/2021
Location sur le week-end de la Saint Valentin, véhicule parfait pour l'occasion et pour la vitee du week-end ! Très confortable, pratique, rien a redire sur le véhicule au top et le propriétaire très disponible et sympathique. Déjà une autre demande de réservation en cours.
---
See all comments
About the owner
Dominique L.
5 comments
Verified phone
Spoken languages : French
Confirmed Owner
5 locations effectuées au minimum
Digital Expert
Plus de 75% des états des lieux faits sur l'application
---
Driver conditions
Etre âgé d'au moins 23 ans.
Etre titulaire du permis de conduire de la catégorie B depuis au minimum 3 ans. Le permis doit être en état de validité.
Upload scans of your driver's license and ID to your account before the rental begins.
Notre partenaire Allianz vous assure tout au long de votre voyage (à partir de la date de début de location jusqu'à la date de fin de location), pour les dommages liés à la circulation (franchise applicable).
NEW!
Choose the Comfort or Serenity + options to reduce your deductible.
---
Location