Rental FIAT ADRIA SONIC
Brumath (67)
Class A
4 seat(s)
4 sleeping place(s)
Non-smoker
The Intégral FIAT SONIC
Réf. VL16768
Consumption : 10 L / 100 km
---
Très beau CAMPING CAR ADRIA SONIC PLUS 700 SL, bien agencé, confortable et bien équipé.

Nous laissons à disposition tout l'équipement nécessaire (hors linge de toilette et draps

Pour le confort de conduite :
- moteur 180 CV ;
- Rétroviseurs de bus à réglage électrique ;
- caméra de recul ;
- Suspension Pneumatique


Pour le confort intérieur :
- Climatisation Cellule
- Grande autonomie grâce au panneau solaire 160W - Eclairage intérieur 100% LED
- Moustiquaires y compris à la porte cellule
- Fermeture centralisée cabine / cellule
- Store occultant pour cabine ;
- un grand lit pavillon (150 x 190) ;
- à l'arrière, les lits jumeaux sont transformables, grâce à une rallonge centrale, en un grand lit taille XXL ;
- Antenne satellite automatique 2 têtes : 1 télévision coin repas + 1 télévision chambre arrière pour une utilisation des chaines distinctes
- chauffage GAZ (type chauffage central, ce qui permet une meilleure répartition de la chaleur que le chauffage à air pulsé) ;
- réservoirs d'eau propre et eaux grises dans le plancher isolé et chauffé, ce qui permet une utilisation du véhicule en hiver également.


Le véhicule est équipé de :
- La vaisselle pour 4 personnes ;
- Une plaque cuisson gaz 3 feux
- Un grand frigo (160 L)
- Adaptateurs prises électriques et rallonge
- Adaptateurs robinet et tuyau d'arrosage.
- Porte 4 vélos
- Store extérieur
- Chaises et table de camping

N'hésitez pas à nous contacter pour tout autre renseignement
Learn more
---
Features
Toilette et douche séparés
---
Availability

Please wait...
The rate includes 200 km/day . 0,25 €/km add.
5% discount starting at 15 days of rental .
---
Overall rating
5,0 / 5
1 comment
See all comments
About the owner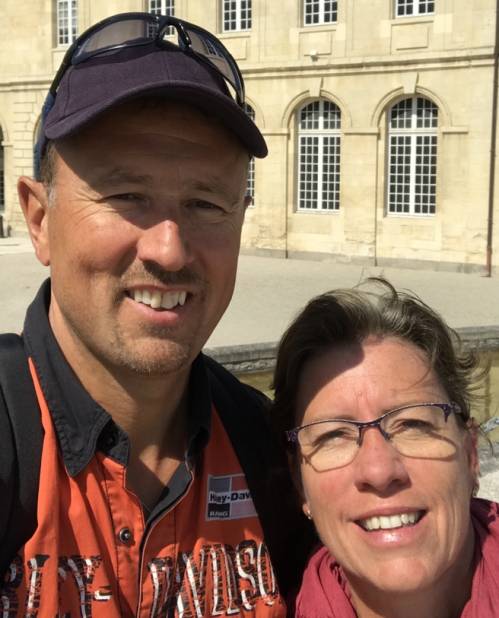 Daniel B.
2 comments
Verified phone
Experienced Owner
5 locations effectuées au minimum
"Dieu du Stade" Owner
Calendar updated every month for the last 6 months
---
Driver requirements
Be at least 23 years old.
Be in possession of a driver's license for at least 3 years. The license must currently be valid.
Upload scans of your driver's license and proof of ID to your account before the rental period begins.
Notre partenaire Allianz vous assure tout au long de votre voyage (à partir de la date de début de location jusqu'à la date de fin de location), pour les dommages liés à la circulation (franchise applicable).
NEW!
Choose the Comfort or Serenity + options to reduce your deductible.
---
Location