Rental Volkswagen WESTFALIA T2
Le Château-d'Oléron (17)
Combi
5 seat(s)
5 berth(s)
Pet friendly
Non-smoker
Family vehicle
Le Combi alias "Lulu"
Réf. VL28070
Consumption : 10 L/100 km
---
Partez à la découverte de l'île d'Oléron et de ses alentours avec nos combi VW aménagés des années 70.

Vous évoluerez au cœur de la nature entre océan, estran rocheux et forêt domaniale. Le rythme est lent, on prend son temps.

Ici Lulu, combi T2 de 1975 aménagement d'origine Westfalia, motorisation 1.8 L.

La restauration des véhicules est complète. A la fois simple et pointue, le tout sans les dénaturer. Leur bouille est parfaite ainsi !

La motorisation est intégralement révisée par Antoine, chef mécano de la team, et garagiste depuis 10 ans sur la commune. Aussi minutieux qu'un horloger.

Séjour, dans une ambiance complètement insolite et seventies garantie !
Mais pas que, le mobilier de camping est choisi avec soin et se veut looké (Made in fr. LAFUMA) Et la vaisselle ? Dans l'air du temps, en joli métal émaillé.

Ce combi est entièrement équipé. Sont compris : Un kit Torchons, liquide vaisselle, sac poubelle, papier toilette, sel, poivre.
Une alaise par nombre de lit utilisé.
Autant d'oreillers (65x65) que de personnes à bord.
Cartes routières et jeux de sociétés.

On dort et loge à 5 dans nos camionnettes. Si si !

Elles se faufilent partout grâce à leur petit gabarit. 1.95.
Le kilométrage n'est pas limité, cependant nous avons limité une zone de circulation que nous vous décrirons via une carte routière lors de la prise en main. Il s'agit pour nous de venir vous dépannez dans un délai de temps raisonnable en cas d'imprévu. à 47 ans, Lulu est un peu capricieuse. Elle est fiabilisée mais dans la vie nous ne sommes à l'abris de rien ! Plus vite dépanné, et plus vite à nouveau sur les routes pour poursuivre votre séjour. La régions a un patrimoine naturellement riche, vous ne serez pas en peine de divertissement et de diversités. Pour vous donnez une idée, la zone comporte l'ile d'oléron et s'étend à la cote du 17. (Ile de ré exclue)

Pas de frais supplémentaire à prévoir, vous bénéficiez de l'assurance SuperCombi. Economie non négligeable sur le prix de votre séjour.


Vous souhaitez franchir le pas mais vous êtes SuperDébutant ? No panic, Je vous aide à organiser votre séjour en vous donnant pleins d'astuces et de conseils.

Bonne découverte et bonne route en SuperCombi !

A savoir : les véhicules sont à votre disposition à partir de 15h (jour du début de votre location) et le retour se fera entre 10 et 11h. Une fluctuation de ces horaires est tolérée si le combi ne repart pas après. Discussion de dernière minute si l'occasion de présente.

Marie.
Find out more
---
Equipment
Afficher les 11 équipements +
---
Availability

Please wait...
The rate includes 200 km/day . 0,15 €/km add.
Tarif avec 100 km/jour : - 10 € / jour .
---
Overall rating
5,0 / 5
1 comment
Valerie G.
12/09/2022
Bon accueil de la propriétaire, week-end magique avec le combi Lulu,de bons souvenirs, pour mes 50 ans.
---
See all comments
About the owner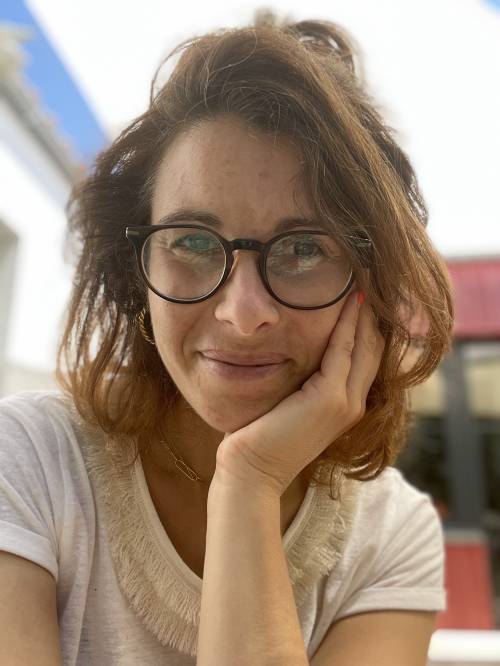 Marie P.
1 comment
Verified phone
Spoken languages : French
Novice Owner
Une location effectuée au minimum
+ de 80% d'acceptations
Plus de 80% des locations ont été acceptées
---
Driver conditions
This vehicle is covered by the leaser's insurance provider in the countries listed below:
France , France uniquement
Be aged at at least 22 years old.
Not aged more than 75 years.
Etre titulaire du permis de conduire de la catégorie B depuis au minimum 3 ans. Le permis doit être en état de validité.
1 licensed driver(s).
Scans of the driver's license and ID of all drivers sent to Wikicampers before the rental begins.
Dépôt de garantie de 3000€ : chèque de caution (non encaissé), cash à effectuer auprès du loueur à la prise du véhicule.
---
Location